Author's BONUS #1:

Just for ordering today, you get FREE access to my new Creativity Unleashed webinar. This seminar will help you discover how to create differently. Get ready to unleash your thinking, persistence, courage, enlightenment, action, sharing, and ideas. Act today though, because after the launch is over, this seminar will no longer be available for FREE. To claim this bonus gift, make sure you sign up on the registration form. You will be notified of the date/time of the Creativity Unleashed webinar
Author's BONUS #2: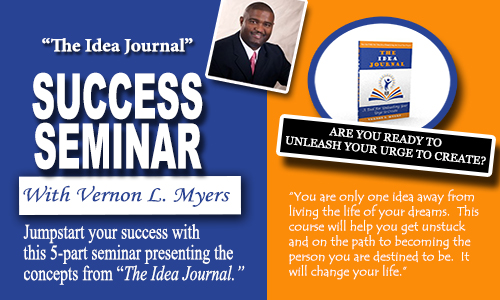 …And a FREE copy of The Idea Journal Success Seminar. Jumpstart you success with this 5-part seminar presenting the concepts from The Idea Journal. You can achieve success in anything you set your mind to and The Idea Journal Success Seminar will show you how to do it. This is a five week seminar that will help you discover the process of identifying and accomplishing your goals every time. This course will help you get unstuck and on the path to becoming the person you were destined to be.
And there's still more bonuses for you…
The Idea Journal is already attracting lots of attention from readers around the world. And many of them – wonderfully gifted teachers of productivity, creativity, relationships, and journaling…like Beth Dargis, Melinda Asztalos, Susan Page, Tamara Baruhovich, Angee Robertson, Carrie Sandoval, and Trine Jensen - are throwing their support behind the book's big "official" launch on 16 September, by giving you additional FREE Gifts, chosen especially to help you live a more creative life and take charge of your time. And, as an added incentive to take action right away (since that's the only way you'll ever bring about any real change), this exclusive bundle is yours only when you order today!
For example, here are the gifts my partners have for you:
FREE: Simple Self Care Playbook

Beth Dargis finds that the idea of taking care of themselves has many people digging in their heels. The only way some people will take care of themselves is if they have accountability and "permission" to do it. Beth will help you realize the importance of self-care and give you practical steps to incorporate self-care into your busy life without turning it into just another item on your "to do" list.
FREE: 2014 Declutter Calendar

Beth is also helping you to make this the year you get your house under control with daily areas to declutter. She is offering her 2014 Declutter Calendar.
FREE: 30 MINUTE Intuitive Coaching Call

Melinda Asztalos will help you clear away blockages that are keeping you stuck in patterns that are limiting your life. During this coaching call you will receive incredible tools and techniques that you can implement today that are proven to get you the breakthrough you have been looking for. Through a unique energy process, Melinda will also adjust energy frequencies locked in your cellular memory that are a result of ancestral patterning, limiting beliefs and energies that keep you in a state of "stuck" or "lack". This is a unique experience that will leave you feeling lighter, renewed and with a powerful sense of clarity and focus.
FREE: First Chapter of the book, Why Talking Is Not Enough

Repeat Oprah guest and bestselling author Susan Page has worked with couples in workshop settings for twenty-two years. She allows only one member of the couple to attend the group and teaches skills that one partner can use to transform the relationship, bypassing "communication" that is the stumbling block for most couples. She has been called, "the Buddha, channeled by Ann Landers." Harville Hendrix calls her book "clearly cutting edge!" Tony Robbins says, "Susan Page's ideas are hard not to do, once you have been introduced to them."
Yours FREE when you order your copy of "The Idea Journal" TODAY
FREE: Learn How to Live an Abundant Life – 7 day eCourse

Sick and Tired of Law of Attraction Non-Sense? How About Getting a Realistic, Step-by-Step System to Finally Make Your Dreams a Reality – All for FREE? Tamara Baruhovich is offering this 7 day eCourse to show you how to make the Law of Attraction work!
FREE: 12 Ways to Use Your Journal eBook and Buy One, Get One 50% off Colorful Sheic Journals
Angee Robertson wants you to pamper your spirit by journaling your thoughts. And if you're going to do it, do it right with a Sheic Journals! Her leather journals come in a yummy array of colors to suit your style. They are a perfect blend of form and function meeting style. You also have a choice of interior linings with each color. Choose the color and lining that matches your personality. Each journal lies flat and provides storage for those loose mementos that don't fit on a page. Visit Sheic Journals to ditch the boring brown or basic black writing journals and choose from a yummy assortment of colors. Use your journal as your new best friend to jot down your thoughts, to-dos or your wildest dreams! When you purchase one journal, get the second one 50% off. Enter the coupon code "ideajournal" Also when you purchase, you will get a FREE copy of the ebook, "12 Ways to Use Your Journal".
FREE: Journals Have Feelings Too: A Guidebook for Writing Your Way Back to Sanity.

Carrie Sandoval is offering free, instant access to the introduction and first chapter of her book, Journals Have Feelings Too, a quick but highly impactful guide to journaling for teens and adults alike. Designed to illuminate a path for those struggling with mental illness and addiction, Carrie's book combines autobiographical elements with creative journaling prompts to make the writing process fun and easy to start and stick to.
FREE: "Secrets to Igniting Your Purpose with Passion" 6-Part Video Series
Trine Jensen has discovered that 3 Key Relationships – Self, Source, and Service – are at the heart of a passionate, purposeful and fulfilling life. When you are connected to your authentic Self and a sustainable Source, you can manifest your life's Service. That discovery led her to create the Success On My Own Terms programs. She created this complimentary 6-Part Video Series for those who are tired of feeling overwhelmed, unengaged, and unfocused.