ATTENTION: Everything You Need To Understand About The Creative Mind & Success Is Revealed In This Personal Message Just For You…

"You're ONE SINGLE CREATIVE IDEA Away From Completely Transforming Your Own Wealth, Health and Personal Happiness!"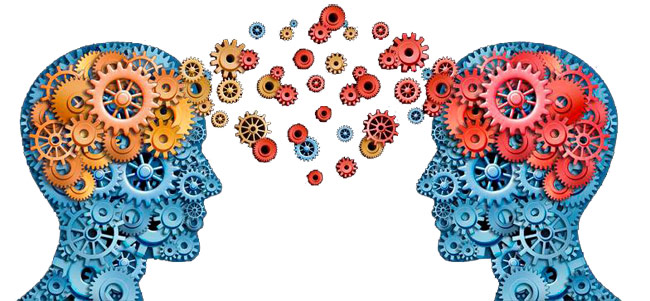 "To be creative means to be in love with life. You can be creative only if you love life enough that you want to enhance its beauty, you want to bring a little more music to it, a little more poetry to it, a little more dance to it."
- Osho
Introducing The GroundBreaking Book on Inner Creativity & Total Life Transformation!
- The Idea Journal by Vernon Myers -
From: Vernon Myers – Author, Speaker, Trainer & Creativity Expert
Subject: Discovering How To Unlock Your Inner Creativity For Success!

"You can't use up creativity. The more you use, the more you have."
- Maya Angelou
Sure, you may be thinking: "I don't have a single creative bone in my body"…
But I'm here to tell you, not only do you have creative abilities deep within you, but that river of creativity has the power to single-handedly change your entire life in areas such as: health, wealth and even personal relationships.
Creativity is NOT given to some people and withheld from others…
The only difference between people you see as truly creative vs. yourself is the fact that they've figured out HOW to tap into this inner river of creativity. When you're able to go deep, and tap into this ever-present river of ideas, then your life will never be the same again.
In fact, your life will change in such a positive way you'll be amazed at what you have been missing out on.
"Let me ask you a few questions right now about your own life…"
"Do you feel stuck in a life that feels mundane, 'lifeless', and lacking in passion or excitement? Yet you watch others simply dance through life with joy and vibrance?"
"Do you get frustrated when you see others prosper off simple ideas you once had, but you never did anything about them and regret it?"
"Do you feel like you have no direction or 'life purpose'? Or maybe you feel like there's more to life, but you're simply missing out on something?"
If you can answer "YES!" to any of these questions, and you desire to live a life that harnesses the power of your own inner creativity (Yes, you DO have it!) to change your life, then listen to the important message I have for you below…
My name is Vernon Myers and I'm here to tell you that no matter WHO you are in this world, you DO have a raging river of creativity inside of you.
The real trick is being able to tap into it, release it, and
use this creative power in your own life!
For nearly 23 years I've been helping people just like yourself not only discover their own personal creativity, but I've also helped them find their true passions and personal leadership abilities and helped them live truly fulfilling lives!
When you think about it, CREATIVITY is at the heart of some of the happiest people on the planet. This includes authors, artists, actors, musicians and even normal, everyday people.
When we create, we appreciate. And when we appreciate life, and get our hands and heart into it, we feel truly ALIVE and everything seems to fall into place like wealth, health and even loving relationships.
In other words…Happiness attracts more happiness!
If you're hungry to find your own passions in life, and have that burning desire to be creative but feel like you have no creativity at all…then I know that what I've created below will help you!

"Be wild; that is how to clear the river. The river does not flow in polluted, we manage that. The river does not dry up, we block it. If we want to allow it its freedom, we have to allow our ideational lives to be let loose, to stream, letting anything come, initially censoring nothing. That is creative life. It is made up of divine paradox. To create one must be willing to be stone stupid, to sit upon a throne on top of a jackass and spill rubies from one's mouth. Then the river will flow, then we can stand in the stream of it raining down."
- Clarissa Pinkola Estés
"It All Began With My 'Tiny' Personal Journal of Ideas & Questions…"
During the past 23 years, while helping people unleash their own creative abilities and leadership skills, I began to write down everything I noticed was working for all my clients into a tiny personal journal.
As I began to add information to this journal, including very precise questions that I would even ask myself, I realized that these questions were SO powerful and life transforming…they even had a HUGE positive effect on my life, not just my clients.
My tiny journal was beginning to turn into something MUCH bigger than the words it contained…
These questions were centrally focused on "cracking open the mind and soul" to reveal the true goals, dreams, passions and creativity of anyone who dared to go deep within themselves and answer them.
This "tiny" journal was beginning to turn into a life transforming tool, chock full of wisdom, ideas and questions that had the transformative power to change peoples lives.
In fact, when I finally started to reveal the information in this journal to friends and family, they were simply BLOWN AWAY by what was inside and told me over and over again…
"Vernon, You'd Be Crazy Not To Publish This Information!"
After many years of contemplation, revision and refinement, I decided to give the green light to what I had created and put my insights and ideas into a book for the entire world to see.
I've called my new book…
The Idea Journal: A Tool For Unleashing Your Urge To Create
"Here's What You'll Discover Inside The Idea Journal…"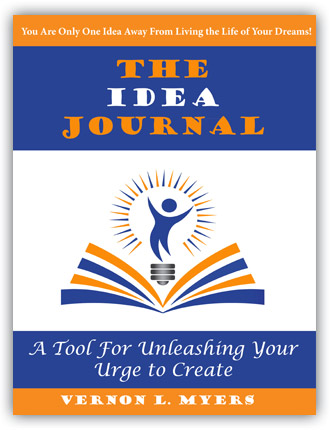 The Idea Journal consists of questions that'll help you bring out your inner creativity, and help you generate amazing ideas, create actionable goals, and even help you discover hidden desires, passions and dreams.
"These questions are like the keys that can open the locks of your creative soul to help you transform your life from the inside out!"
Each page in this massive 312-page idea journal is jam-packed with clearly written questions and prompts to help you "get clear" on not only what you want most out of life, but also will help you tap into your own creative abilities to generate amazing ideas.
"Never underestimate the power of one single great idea. You've probably already had many of them without knowing it. One idea can be a MILLION DOLLAR IDEA that can literally change your financial life forever…"
With the questions in this journal, you're going to open doors to another world of perception within you, to help you let the river of creativity and ideas flow into your consciousness naturally!
No matter what age, race or sex you are…this idea journal can change your life. Open creative doors. Make clear the life path that is meant for you. Help you generate prosperous ideas. And so much more!
The Idea Journal is perfect for: Students, Entrepreneurs, Artists, Writers…and just about anyone who wants to lead a more fulfilled, creative, and successful life!
"Here's a SNEAK PEEK of just a few of the 'Golden Nuggets' you'll discover inside The Idea Journal…"

Tap into the MOST POWERFUL TECHNIQUES to access your inner wisdom and stimulate your own imagination to generate life changing ideas!
Find out how to USE INTROSPECTION to discover your true strengths, weaknesses, creativity and become more self-aware in your own world!
Discover how to use SELF-ACTUALIZATION and create the life of your dreams, by using the power of thought, visualization, and imagination to make it all come true!
Learn the SECRET LITTLE TRICK to capture and record your million-dollar ideas in as little as 15 minutes a day!
Unlock YOUR TRUE PURPOSE IN LIFE and find out how to forge ahead in a new direction that'll give you a sense of purpose, happiness and vitality unlike you've ever dreamed!
SHATTER ALL OBSTACLES that are blocking your life mentally and physically so you can finally start to live life on your terms, the way you want!
Discover these unique steps to DEVELOP LIFE-CHANGING OPPORTUNITIES by simply using your own "built in" skills, abilities and talents every single day of your life!
Find out what your DEEPEST DREAMS & DESIRES really are by going deep within your soul and listening to what it has to tell you! You might be shocked at what you hear!
UNLEASH THE CREATIVE GENIUS inside of you (everyone has it!) so you can become an "idea generating machine" that'll never have a a shortage of inspiration and creativity!
Discover HOW YOUR PAST IS AFFECTING THE PRESENT and learn how to let it go, and stop letting the past be in the drivers seat to your new and bright future!
Unleash THE REAL POWER OF S.M.A.R.T. GOALS to transform your life, grab it by the horns, and create a life you never dreamed possible!
Find out WHY YOU HAVEN'T TAKEN REAL ACTIONS on your dreams and find out how to move forward, make positive changes and finally feel good about waking up every single day!
Use the I.D.E.A.S WORKSHEET to open up a stream of brand new, and even lucrative ideas from deep inside of you. This exercise is simply mind-blowing!
Discover how to GENERATE BREAKTHOUGH BUSINESS & BOOK ideas that'll actually work! You'll be surprised at the plethora of ideas within you!
Unlock THE POWER OF MINDMAPS to explore your own creativity on the spot and watch what your imagination can do for you!
Pour yourself into MY FAVORITE TOP TOOLS & RESOURCES that are guaranteed to help you develop the right life plan for you, as well as the right actions to take!
Read over my ULTIMATE LIST of 101 books on Ideas, Creativity, Innovation and Success to help you take your life even deeper into creativity and personal success!

You'll Discover All The Information Above Plus SO Much More!
That's Only the VERY TIP OF THE ICEBERG of What You'll Personally Discover Inside The Idea Journal!
IMPORTANT NOTE: Although this guide is called "The Idea Journal" it isn't just a book of blank pages for you to write. It's MUCH more than that! This guide is jam-packed with useful tools and techniques to help you think differently about yourself and to help you discover your true talents and creativity! In fact, once you begin to read this book, and think about the exploratory questions, you'll find that the process is very fulfilling and liberating.
And don't worry, you don't have to fear writing page after page of answers to numerous questions. This book will help you take a personal "shortcut" to your inner strengths, weaknesses, and burning desires rather quickly. The more you dive deep into this book, the more you'll get out of it!
The Word Is Out! People Are Simply Raving About The Idea Journal!
"This book gives you all you need to clarify what you want out of life and to set and achieve your goals and dreams."
--Josh Hinds,
Founder, GetMotivation.com
"The Idea Journal is a great communication tool between parents and kids! It helps parents to facilitate the desires and goals of their kids."
--Paula Wheeler,
Mother of Four
"The ideas in this book make it easy to recognize the changes you need to make and then gives you worksheets in order for you to "Mindstorm" what you want and design a pathway to developing your own Million-Dollar Idea mindset. It offers simple Success Strategies which you can use every day. I find myself referring to the book on a daily basis."
--Judi Moreo, Author
Conquer The Brain Drain: 52 Creative Ways to Pump Up Productivity
You Are More Than Enough and The Achievement Journal
"Vernon Myers' Idea Journal is simply brilliant and brilliantly simple. I love it. This book is filled with exceptional resources and designed to help the reader take their dreams and turn them into reality. Highly recommended!"
--Peggy McColl,
New York Times Best-Selling Author
Aka "The Best Seller Maker"
"Vernon Myers' The Idea Journal packs a lot of punch. It is a workbook of substance, to be sure. It is a book that can be used in both your personal and professional life. The Idea Journal isn't just a book of ideas on how to create, rather it shows you the way."
--Dina L. Colman,
Author
"I almost felt as if Mr. Myers was in the room, leading the way to a process of exciting self-discovery which almost felt indulgent, as the book is so much fun. My favorite section was "How to Mindstorm Your Way to Success." I highly recommend this book without reservation to anyone interested in understanding themselves better, followed by taking action towards their own personal goals that have meaning and value to them."
--Sharon McCormick,
Executive Coach & Leadership Development Professional
"Vernon Myers has used his extensive experience to compile, organize and sequence a set of resources using a journal/workbook format. This format is designed to help readers meaningfully reflect and usefully capture their thoughts and ideas, then use them to set the goals and actions that will help them move forward."
--Dr. Mark L. Joyce
Professor of Education
"You Only Have Two Choices Right Now In Your Own Life…"
It's really simple. You can continue living your life the way you have been, feeling uninspired, aimless and "going through the motions" OR you can discover your TRUE creative self, open doors to lucrative opportunities not only financially but also personally with those around you. You can live a life with PURPOSE, PASSION, and CREATIVITY.
But just like a homebuilder needs a blueprint to correctly build a beautiful home, you also need the right blueprint and tools to help you achieve your own life purpose…and most of all, become truly successful.
The Idea Journal will give you EVERYTHING you need to transform your life from the mundane, into something that is extraordinary. And the good news, it's all there within you right now, waiting to be exposed and unleashed.
It's time to invest in yourself and your TRUE potential…
It's time to discover who you REALLY are…
And most of all, it's time to UNLEASH your true talents, ideas and potential to create a life so rich and abundant, you'll be filled with happiness every single day of your life!

"If You Order The Idea Journal Today, I'm Going To Give You Even MORE Life Changing Information FOR FREE!"
That's right, I'm going to give you some really powerful and exclusive bonuses that I know you're going to absolutely LOVE. You'll get all the bonuses below at no extra cost when you purchase The Idea Journal today!
Let's face it though: We're creatures of habit, you and I. And inertia is a powerful force – it usually takes a little extra "oomph" to get us to shift gears and do something different ... even when it's so obviously for the better.
That's why I'm thrilled to offer you this…
Creative Genius Fast-Action Gift Pack
In creativity, as in all of Life, any suggestion or strategy is only as good as the ACTION you put behind it. YOU know that … and I know it too.
And that's why I'm making it so easy for you to say "YES!" to acting on THIS opportunity now…
…while it's still fresh in your mind, and before the pressures of daily life begin pushing your resolve to the back burner.
Take action TODAY by claiming your copy right now, and you'll also get a special gift package containing several items hand-picked especially to help you get the most out of this book, AND make the transition to a more creative life quicker and smoother than you might have once thought possible.
Let's get the gift-giving started with…

Author's BONUS #1:

Just for ordering today, you get FREE access to my new Creativity Unleashed webinar. This seminar will help you discover how to create differently. Get ready to unleash your thinking, persistence, courage, enlightenment, action, sharing, and ideas. Act today though, because after the launch is over, this seminar will no longer be available for FREE.
Author's BONUS #2: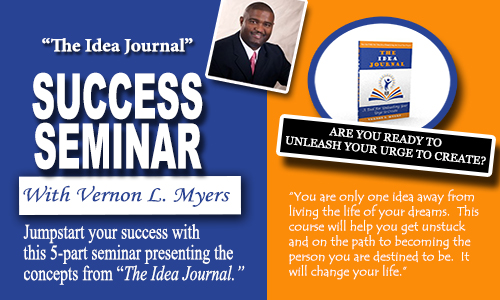 …And a FREE copy of The Idea Journal Success Seminar. Jumpstart you success with this 5-part seminar presenting the concepts from The Idea Journal. You can achieve success in anything you set your mind to and The Idea Journal Success Seminar will show you how to do it. This is a five week seminar that will help you discover the process of identifying and accomplishing your goals every time. This course will help you get unstuck and on the path to becoming the person you were destined to be.
And there's still more bonuses for you…
The Idea Journal is already attracting lots of attention from readers around the world. And many of them – wonderfully gifted teachers of productivity, creativity, relationships, and journaling…like Beth Dargis, Melinda Asztalos, Susan Page, Tamara Baruhovich, Angee Robertson, Carrie Sandoval, and Trine Jensen - are throwing their support behind the book's big "official" launch on 16 September, by giving you additional FREE Gifts, chosen especially to help you live a more creative life and take charge of your time. And, as an added incentive to take action right away (since that's the only way you'll ever bring about any real change), this exclusive bundle is yours only when you order today!
For example, here are the gifts my partners have for you:
FREE: Simple Self Care Playbook

Beth Dargis finds that the idea of taking care of themselves has many people digging in their heels. The only way some people will take care of themselves is if they have accountability and "permission" to do it. Beth will help you realize the importance of self-care and give you practical steps to incorporate self-care into your busy life without turning it into just another item on your "to do" list.
FREE: Get Things Done Procrastination eCourse

Beth is also helping you to make this the year you get your house under control with daily areas to declutter. She is offering the Get Things Done Procrastination eCourse - a 15-day e-course to help you quit procrastinating and get things done.
FREE: 30 MINUTE Intuitive Coaching Call

Melinda Asztalos will help you clear away blockages that are keeping you stuck in patterns that are limiting your life. During this coaching call you will receive incredible tools and techniques that you can implement today that are proven to get you the breakthrough you have been looking for. Through a unique energy process, Melinda will also adjust energy frequencies locked in your cellular memory that are a result of ancestral patterning, limiting beliefs and energies that keep you in a state of "stuck" or "lack". This is a unique experience that will leave you feeling lighter, renewed and with a powerful sense of clarity and focus.
FREE: First Chapter of the book, Why Talking Is Not Enough

Repeat Oprah guest and bestselling author Susan Page has worked with couples in workshop settings for twenty-two years. She allows only one member of the couple to attend the group and teaches skills that one partner can use to transform the relationship, bypassing "communication" that is the stumbling block for most couples. She has been called, "the Buddha, channeled by Ann Landers." Harville Hendrix calls her book "clearly cutting edge!" Tony Robbins says, "Susan Page's ideas are hard not to do, once you have been introduced to them."
Yours FREE when you order your copy of "The Idea Journal" TODAY
FREE: Learn How to Live an Abundant Life – 7 day eCourse

Sick and Tired of Law of Attraction Non-Sense? How About Getting a Realistic, Step-by-Step System to Finally Make Your Dreams a Reality – All for FREE? Tamara Baruhovich is offering this 7 day eCourse to show you how to make the Law of Attraction work!
FREE: 12 Ways to Use Your Journal eBook and Buy One, Get One 50% off Colorful Sheic Journals
Angee Robertson wants you to pamper your spirit by journaling your thoughts. And if you're going to do it, do it right with a Sheic Journals! Her leather journals come in a yummy array of colors to suit your style. They are a perfect blend of form and function meeting style. You also have a choice of interior linings with each color. Choose the color and lining that matches your personality. Each journal lies flat and provides storage for those loose mementos that don't fit on a page. Visit Sheic Journals to ditch the boring brown or basic black writing journals and choose from a yummy assortment of colors. Use your journal as your new best friend to jot down your thoughts, to-dos or your wildest dreams! When you purchase one journal, get the second one 50% off. Enter the coupon code "ideajournal" Also when you purchase, you will get a FREE copy of the ebook, "12 Ways to Use Your Journal".
FREE: Journals Have Feelings Too: A Guidebook for Writing Your Way Back to Sanity.

Carrie Sandoval is offering free, instant access to the introduction and first chapter of her book, Journals Have Feelings Too, a quick but highly impactful guide to journaling for teens and adults alike. Designed to illuminate a path for those struggling with mental illness and addiction, Carrie's book combines autobiographical elements with creative journaling prompts to make the writing process fun and easy to start and stick to.
FREE: "Secrets to Igniting Your Purpose with Passion" 6-Part Video Series
Trine Jensen has discovered that 3 Key Relationships – Self, Source, and Service – are at the heart of a passionate, purposeful and fulfilling life. When you are connected to your authentic Self and a sustainable Source, you can manifest your life's Service. That discovery led her to create the Success On My Own Terms programs. She created this complimentary 6-Part Video Series for those who are tired of feeling overwhelmed, unengaged, and unfocused.
ALL of these BONUS GIFTS are Yours, FREE - when you order your copy of "The Idea Journal" TODAY

Place Your Order Right Now of Your Own Personal Copy of The Idea Journal From Amazon.com
You'll be getting over 23 years of personal wisdom, insights and PROVEN techniques that'll boost your creativity and increase your success for less than the cost of a cup of daily coffee for a single month!
"Yes, I Want To Buy My Own Copy of The Idea Journal Right Now!"
Do you have a friend or family member who might benefit from this book?
Why not buy them a copy as a personal gift?
I know when you get your hands on this life-transforming information, your life will take on a whole new level of passion, vitality, and creativity and it'll take you to places you've never imagined possible!
I look forward to hearing how you tap into your creative ability.

P.S. The Idea Journal really is your solution to a whole new way of creative and successful living. Plus, you'll get over $100s worth of bonuses for absolutely free. Take a chance on yourself, you have nothing to lose! Order your own copy of The Idea Journal right now.